It's not just about building a website, the strategy is crucial
When Submarine is approached for a new project, it's not simply a matter of providing what the client asks for.  Submarine will provide valuable experience and structure to your development, built on twenty years of successful deployments.
Most often, this input leads to a better outcome both in terms of cost and features. We like to share our knowledge and invest in our clients, particularly if the project supports the wider Guernsey community. 
Often people need more than a brochure website or to transfer a document to a PDF file that can be downloaded. Taking the time to consider and develop an online strategy will pay dividends in improving your communication and streamlining your process. This can incorporate a variety of tools, some of which are free of charge including social media accounts, EDM's (Electronic Direct Mailing) with 'sign up' opportunities in strategic places (to develop a contact list), an analytics package to provide feedback and a Google My Business account, and equivelent on other search engines) to help with search engine optimisation.
At this point you should also consider if mobile delivery is an essential component of your plan. Submarine have recently compiled some general insight which suggests +50% of web traffic is now delivered over a mobile device (smart phone or tablet) and this increases towards the younger Generation Z demographic (under 25). Over 90% of social media is delivered via mobile with Facebook generally dominant (although Gen' Z tend to use YouTube, Snapchat and other platforms). 
Regular content updates are critical if you want visitors to remain engaged with your website and this will significantly boost search engine performance - the easiest way to achieve this is to have a blog or 'Insight' section within the website. Every time you type a word and publish, it is immediately available over the internet. Google remains the number one search engine and FOC analytics provider so it is worth jumping through a few hoops to establish a Google account in order to maximise this.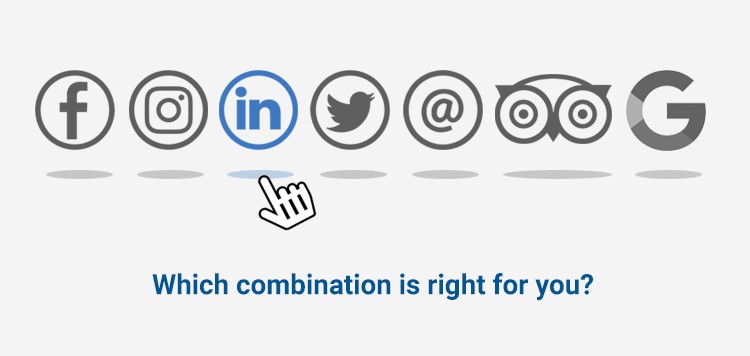 Once this basic strategy and tools are in place, your message can get out there; and then there are more tools to help you. Boosted posts on social media have become popular and remain good value for money. You can pick your audience and geo location so that your message gets to the right people. 
Of course, to qualify your financial and resource spend effectively (ROI) you need the statistics. Social media platforms provide this and can also give you helpful tips, for example, indicating the best time of day to release a post.  Google and other search engines have analytic facilities which provide a wealth of helpful information including the most popular pages on your website and (in some cases) where your in-bound connections are coming from.


Vale Parish, Guernsey
The Senior Constable of the Vale Parish, Richard Leale, reported recently in the Guernsey Press that the new Vale Parish website is a huge success.  The site was designed and built by Submarine working closely with Richard Digard. In particular, we looked at ways in which we could improve communication with parishioners and how to raise the profile of the parish and its on-going activities whilst maintaining a tight budget. Submarine's solution included the utilisation of free social media and analytics tools, establishing a Google My Business account and a website administration function to empower staff to largely maintain the website themselves. 
Richard's findings evidence the long term benefits and cost savings of investing time in a strategy, and of using a well thought out website along with other digital resources to improve communications. This will reap the rewards and ensure that your message gets out there.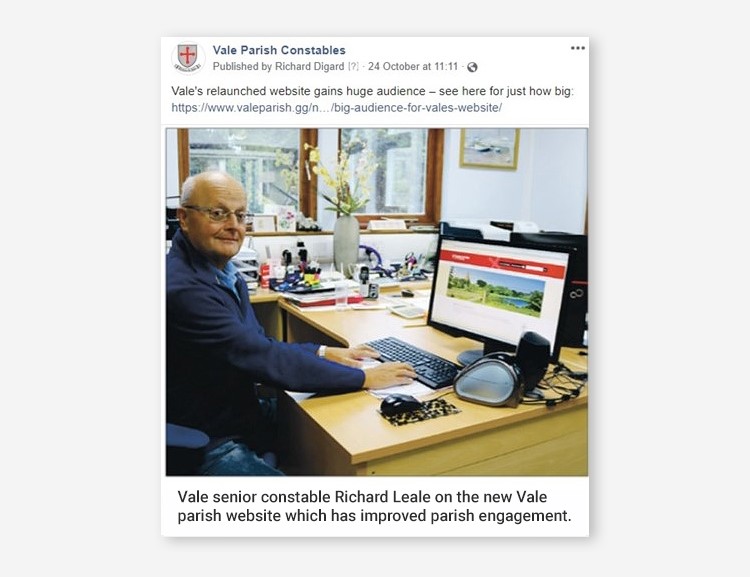 Links:
More from Submarine - Social Media 
More from Submarine - Digital Marketing
Vale Parish Website www.valeparish.gg/
Vale Parish Facebook https://www.facebook.com/Vale-Parish-Constables-447485878969751/
Vale Parish Twitter https://twitter.com/ValeParish
It's good to share
Why not say hello?
Submarine can help you respond effectively to a new business challenge or support a concept for feasibility, in order to get your project off the ground.  We operate discreetly and are happy to work through an NDA or contract.  Back-end code samples and professional references can be provided. Take the next step.