Mobile First - infographic
Mobile devices have greatly changed the way people communicate, interact and consume on a daily basis. For this reason, it's important for business owners to use the most effective tactics in order to reach and inform mobile customers. This applies equally to the provision of brand, PR and public information for all organisations.
Companies have increasingly adopted digital marketing over recent years. Optimising your website for mobile traffic and investing in an online marketing strategy that works effectively through web connected devices, is a key foundation of the sales & marketing landscape in 2019.
Millennial buyers cite internet search and vendor websites as their two top means of researching products and services and they will typically gather information up front via social networks, videos, blogs, podcasts and message services. This is set to increase with Generation Z, the social demographic born into the digital world from the mid 1990s who communicate online largely through mobile devices.
However, it is not just enough for your website and comms to 'work' on mobile as stats suggest a poor experience can knock confidence and turn users away from the business as a whole. Your website needs to be built and optimised for mobile extending to its page content and through to your wider comms channels including business networks and social media. PDFs, most often used as downloads, are another area for scrutiny - they should have their file size reduced, checked for accessibility and key information should be pulled out into on-screen text (as not all devices can present them well). Submarine have produced this simple infographic which collates recent indicative insight.


Mobile First Infographic - click the image for a large version which can be printed (1Mb)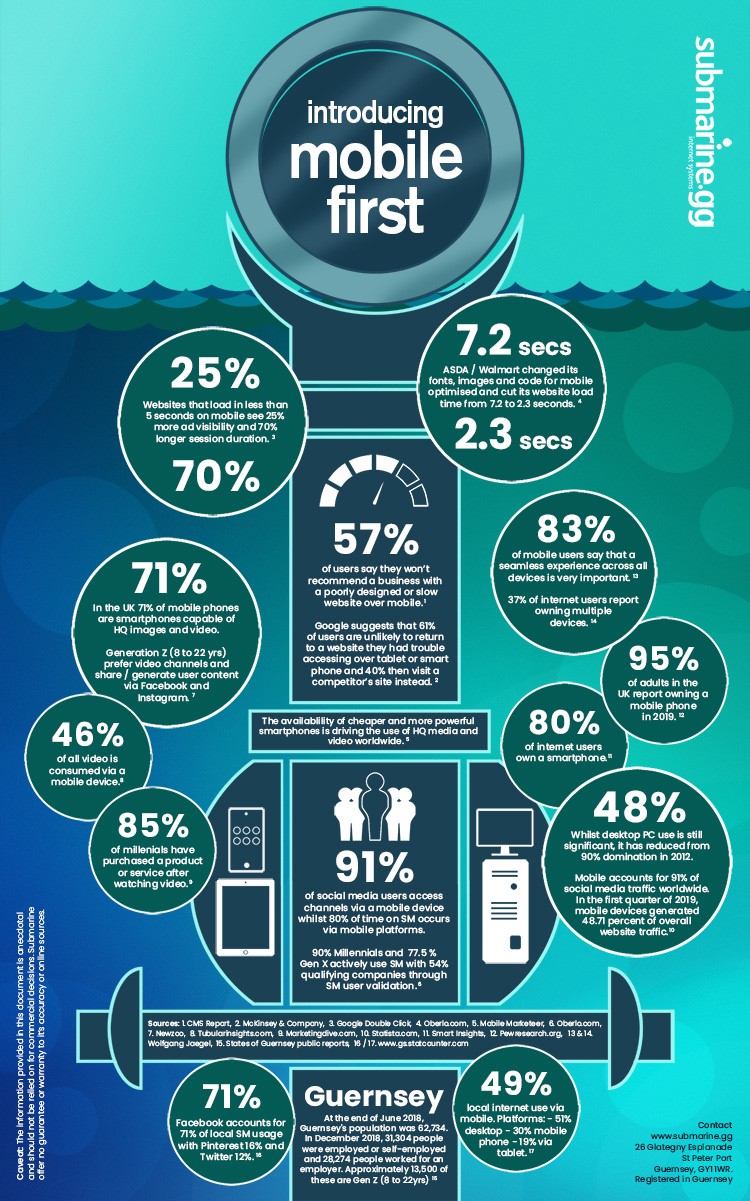 These statistics highlight the importance of an efficient mobile website and marketing strategy in a Mobile-First world as desktop surfing transitions to phone and tablet. Caveat: the information provided FOC in this infographic is anecdotal and should not be relied on for commercial decisions. Submarine offer no guarantee or warranty to it's accuracy or that of the online sources of the data.
Submarine are a web development company with the required experience and technical foundation to optimise your website for Mobile First. Established over 20 years in the Channel Islands and with core skills in application code, HTML, CSS, MySQL and web ready creative, Submarine have proven success in delivering highly optimised mobile ready websites.
Have you landed here from a web search?
Submarine are a technical and creative solutions provider based on the island of Guernsey near the French coast. Our field of operation is generally the Channel Islands although we do service clients with wider operations within Europe.