New website for St Martins parish, Guernsey
The Constables & Douzeniers of St Martin's parish, Guernsey have a new website, designed and built by Submarine.

The Parish needed an up-to-date website to give parishioners current information with ease.
Submarine built the site in Umbraco, giving staff a Content Management System (CMS) where it is easy to add or update information and images.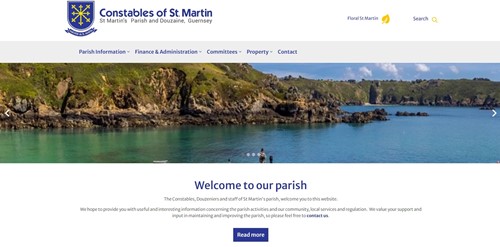 Have a look:
This is the third parish website that Submarine has created with the Vale and St Peter Port parishes both having Umbraco sites.
More information:
Affordable websites by Submarine 
Content Management System (CMS) and why you need it 


Environment
Submarine promotes support for all things green for a healthier environment. As with all new websites that Submarine create, we have planted 25 trees for The Barn through our CSR carbon offsetting scheme Ecologi.  For more information on Submarine's carbon offsetting scheme see https://ecologi.com/submarineltd

It's good to share
Why not say hello?
Submarine can help you respond effectively to a new business challenge or support a concept for feasibility, in order to get your project off the ground.  We operate discreetly and are happy to work through an NDA or contract.  Back-end code samples and professional references can be provided. Take the next step.