States Works website launched in Guernsey
Working with Submarine, Guernsey's States Works department has launched a mobile friendly website, giving citizens a wealth of information on their island role and the services offered.

States Works provide general contracting and maintenance services to the States of Guernsey and private clients utilising the skills and expertise of the predominantly manual workforce supported with specialist plant, vehicles and equipment.

States Works receives no direct funding or subsidy from the States of Guernsey government and operates an independent trading account from which all operational and capital expenditure is funded. As such the website development was on a strict budget with scrutiny for best value. It was built by Submarine for the States of Guernsey ICM content management platform and hosting in order to minimise these costs.

The new, mobile friendly website is part of the departments digital transition strategy and provides customers with information on the services offered whilst highlighting the wider value and contribution to the community in general. Public updates are facilitated nimbly through a social media based news feed and the website also supports 'In an Emergency' out of hours contact points. Proposed future developments include an expansion of the information presented and online payment facilities supporting the transition strategy further.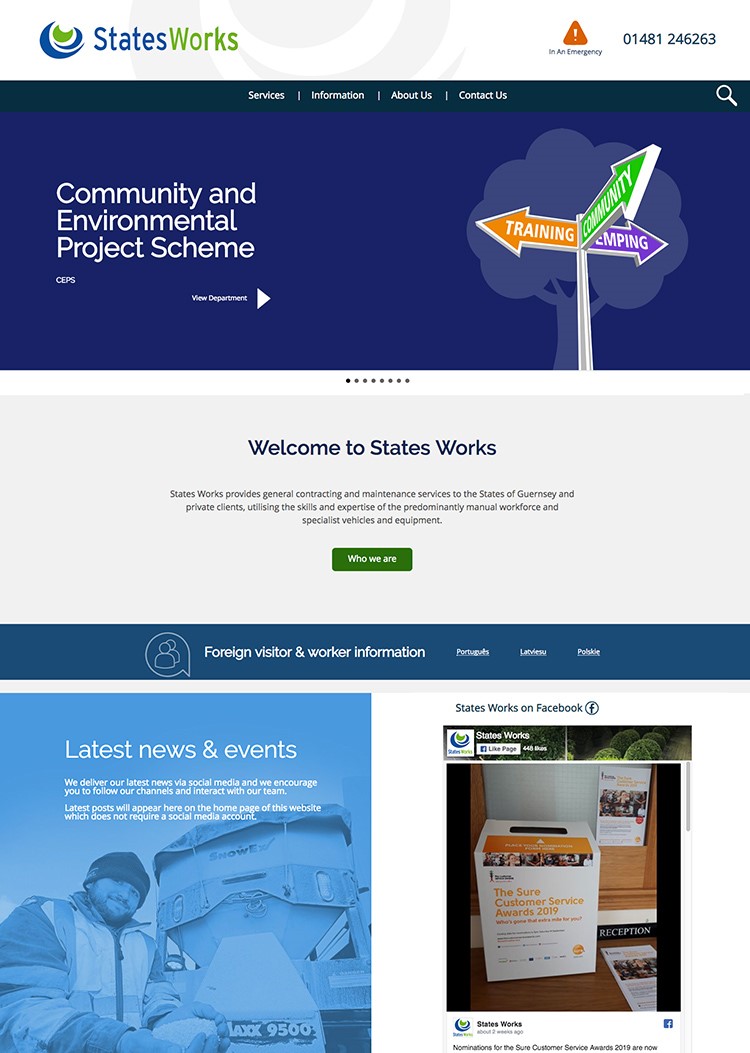 In designing the website, Submarine creative lead Paul Brown developed a series of illustrated hero banners for each department in order that they were reflected in a bright, positive and consistent manner - this avoided the requirement for potentially difficult and expensive photography to represent facilities such as sewage treatment plant.

Links
States Works website: www.statesworks.gg


Recent States of Guernsey / ICM deployments by Submarine
Guernsey Harbours
Guernsey Water
Government House
DCA - Office of the Director of Civil Aviation
Beau Sejour Leisure Centre 
St Peter Port Parish
Guernsey Tickets
Guernsey Police
The Institute 
Alderney Courts


Have you landed here from a web search?
Submarine are a technical and creative solutions provider based on the island of Guernsey near the French coast. Our field of operation is generally the Channel Islands although we do service clients with wider operations within Europe.