St Peter Port parish website launched
Submarine have successfully designed and developed a new agile, secure and easily managed website for Guernsey's largest local parish, St Peter Port. 

Requirement
The requirement was for a functional information website with a focus on the latest news and local events. This was largely achieved through a logical site plan and navigation menu with latest news items presented dynamically on the home page - created and driven by the content management system (CMS).  This was supported with an archive of the parish insight magazine, The Townie, presented in web friendly, small file size PDFs. 

Fast loading pages, a clean layout with good contrast and clear use of language were priorities for none technical users, older citizens and foreign visitors / workers. The tone was approachable and professional with an emphasis on promoting the parish, and within a budget that offered excellent value for the community.
Self-managed... with support on call
A key factor in the website development, was the capability for admin staff from the parish team to maintain content on-going for expediency and to reduce rolling costs. This was achieved with a custom CMS configuration secured under SSL. The parish admin team took up the option of a monthly retainer for flexible on call support which includes image pre-flight, general requests and security patching.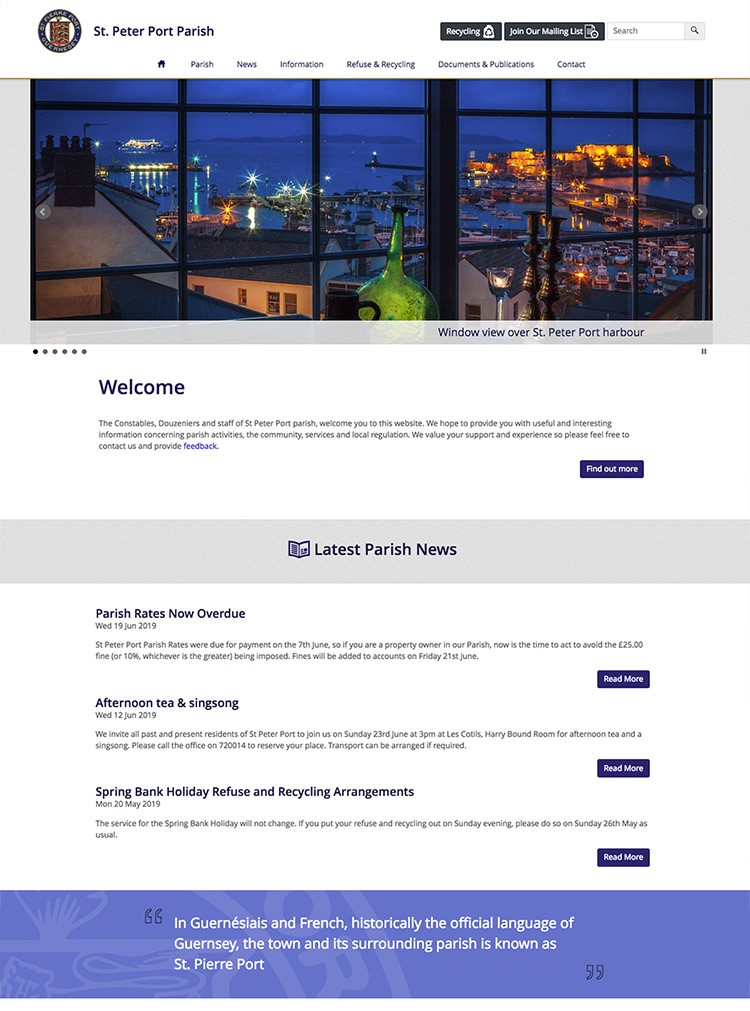 Photography
The parish were supported in their endeavour with photographs from Chris George, the well known Guernsey professional who is the primary contributor of official island images to Visit Guernsey.  In the case of the parish, we briefed him to include unusual perspectives highlighting lesser known parish views rather than the traditional harbour postcards.  

Chris can be contacted through the following social media channels:
Twitter: https://twitter.com/georgieguernsey?lang=en, 
Facebook: https://en-gb.facebook.com/Chris.George.Guernsey, 
Pinterest: https://www.pinterest.co.uk/georgieguernsey/

Submarine are the preferred website supplier for the States of Guernsey.


Links
St Peter Port parish website

Recent States of Guernsey websites by Submarine
Guernsey Harbours
Guernsey Water
Government House
DCA - Office of the Director of Civil Aviation
Beau Sejour Leisure Centre 
States Works
Guernsey Tickets
Guernsey Police
The Institute 
Alderney Courts
Have you landed here from a web search?
Submarine are a technical and creative solutions provider based on the island of Guernsey near the French coast. Our field of operation is generally the Channel Islands although we do service clients with wider operations within Europe.