eBrochure & eCards - reach your target market
An eBrochure is effectively what it suggests - a digital version of a document which can be deployed over the web and through email. Adobe PDF has long been the vanguard of cross platform electronic documents with its ability to retain fonts, design and layout integrity across computers and operating systems.
Acrobat's ubiquitous nature comes at a cost however, which includes a mixed bag of legacy standards (with a potential for links and content failing to appear), poor accessibility, search compromises (often the contents within a PDF cannot be read by search engines) and poor mobile performance due to file size and the originating document layout.


Nordben Life & Pensions annual report presented as an accessible eBrochure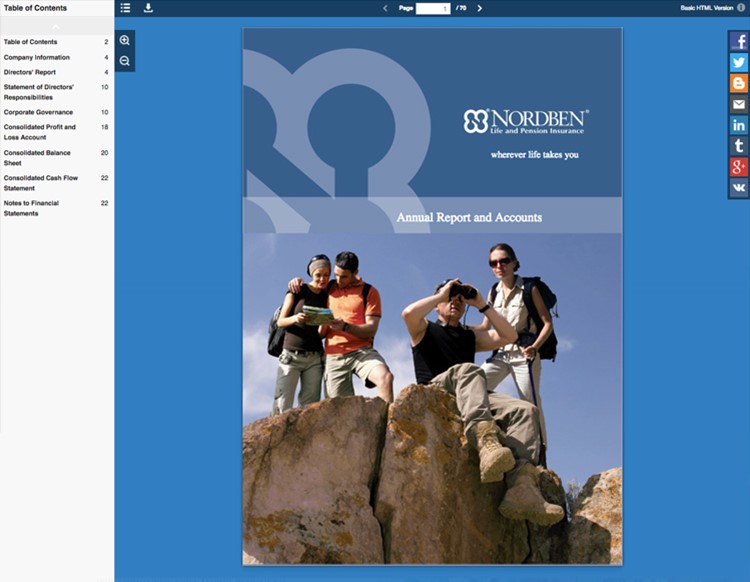 As an example, Microsoft Word under Windows and Preview on Macintosh computer can both output a PDF although they wont be the same dependent on the version of software and operating system. This can be a real issue in an organisation that must have consistency and ensure that documents are easily readable to the 50+% of internet traffic which is now mobile on smart phone and tablet. Did you know for example that 90% of Facebook traffic is via a mobile device... not much point circulating a PDF on there we would suggest. 


States of Guernsey public information eBrochure in multiple languages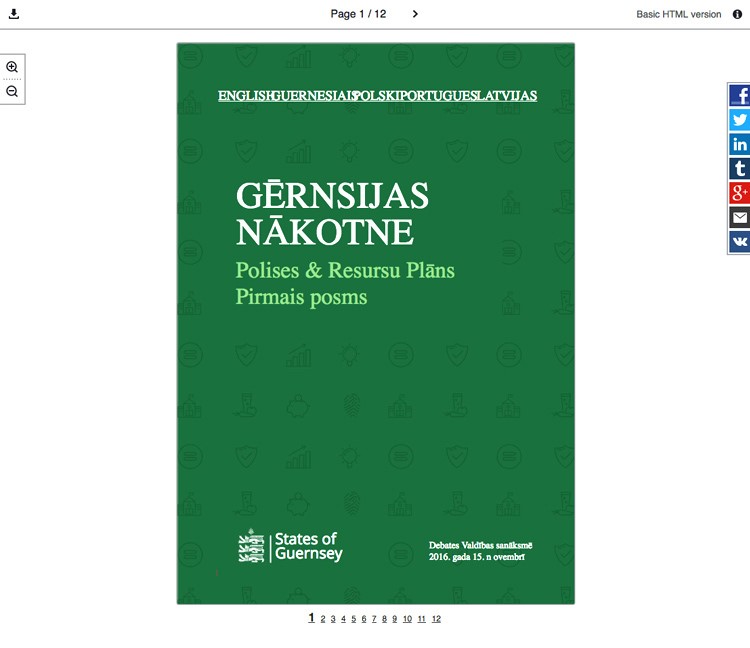 The modern alternative is to deploy your printed documents in the form of an eBrochure which essentially formats into web code and can be viewed in a web browser like a standard web page. This means that the content within your document is searchable by Google, Bing, Yahoo and other engines supporting ranking and making it much easier to find and read. It is also an effective process in a Mobile First marketing strategy, can reduce print / post costs and reduce your companies carbon footprint thereby supporting the environment. 
Benefits
Optimised for search engines with full document content search potentially
Works well on tablet and smart phone unlike PDF 
An effective solution for a Mobile First strategy
Google Analytics integration
Social Media integration
Effective towards paperless communications and a reduction in carbon footprint
Can be circulated through email for EDM campaigns with more engaging content 
Can add hyper links (to your website content)
Data collection through included forms
Can include audio and video
Multi-language support
eCards are a simple version ideal for calendar events and product launches / contacts
Potential reduction in print and postage costs
If you would like no obligation discussion of the potential for eBrochures within your company and communications, please contact Submarine directly. Our process can convert existing print files, Indesign documents and PDFs.
It's good to share
Why not say hello?
Submarine can help you respond effectively to a new business challenge or support a concept for feasibility, in order to get your project off the ground.  We operate discreetly and are happy to work through an NDA or contract.  Back-end code samples and professional references can be provided. Take the next step.