SEO and social media development - Collenette Jones
Submarine has worked recently with Collenette Jones director Gareth Nicolle to develop the company's social media presence and search engine optimisation following design and build of their mobile friendly website in 2020. 



Collenette Jones is a highly experienced Chartered and Chartered Certified accountancy practice serving a range of clients which includes sole traders, small to medium business (SMB) and corporate.  With a deep understanding of the local Channel Island market, in-house expertise and essential support services under one roof, they provide a unique and comprehensive solution for resident clients in the Bailiwick of Guernsey.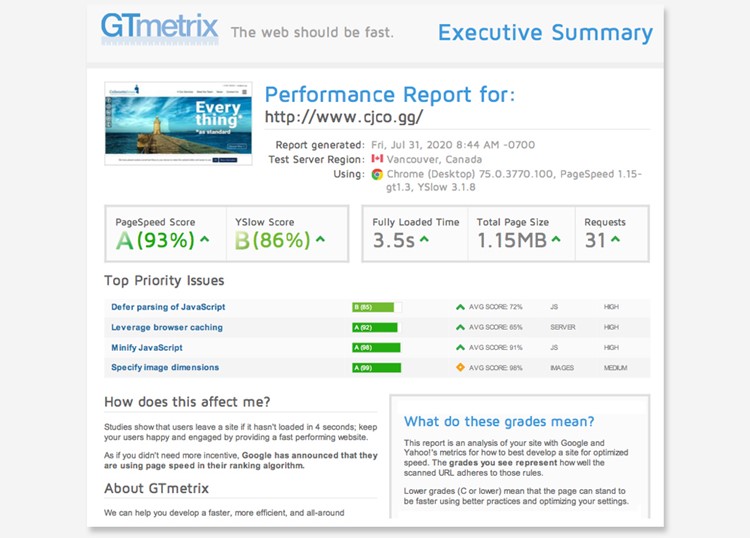 The work commenced with a further optimisation of the website as a foundation platform for developing inbound contacts. Search engines such as Google will promote efficient websites higher in their rankings as they provide a better user experience - a faster download for example.  With mobile website browsing escalating beyond 60% of users in many sectors, this work included advanced image and file support for devices resulting in an excellent high 90s page speed score.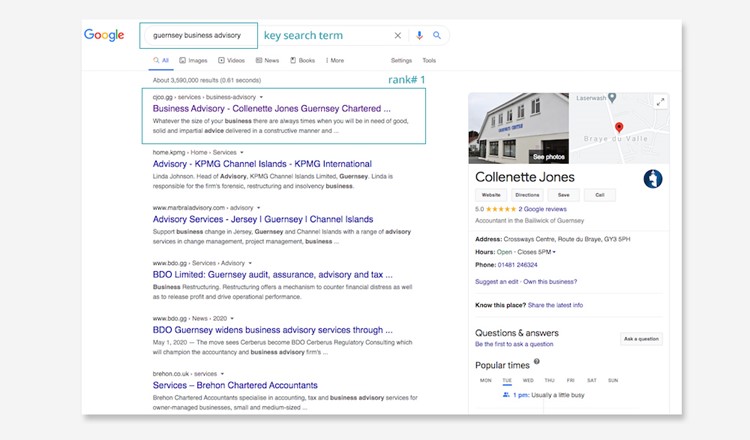 The SEO improvement involved a number of tactics including building out the organic content of the website with useful insight (beyond company information) and the determination and deployment of key search terms relevant to business targets.  This work is on-going although has evidenced success in several areas with Google rankings in the top 5 - ranked #1 for  Guernsey business advisory January 2021.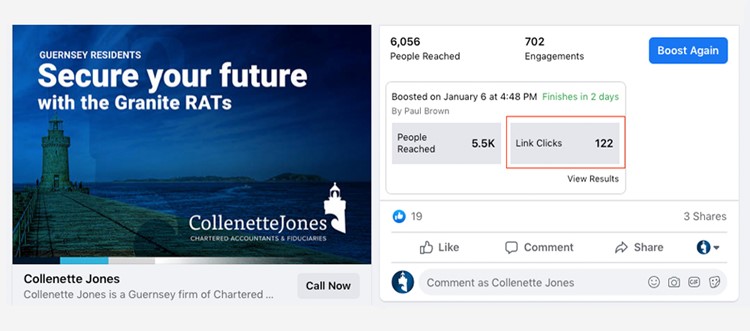 Social media integration with the website is critical for further inbound development. This has included deployment of code and open-graph images within the Collenette Jones website and also the development of clear and direct brand artwork suitable for social channels. Campaigns have been developed around the company offer, community and specific business promotions such as the CJCO RATs pension with a paid boost where appropriate. These link through to specific 'funnel' landing pages with a call to action (CTO).
Be sure to keep an eye on the Collenette Jones website and news section for articles of interest.


Links:
Collenette Jones website www.cjco.gg
Collenette Jones on Facebook  www.facebook.com/CollenetteJones
Collenette Jones website design article:  www.submarine.gg/CJCO_website_launch

More information on:  content management systems 
More information on:  marketing and creative services
Submarine Green footprint:  https://ecologi.com/submarineltd
It's good to share
Why not say hello?
Submarine can help you respond effectively to a new business challenge or support a concept for feasibility, in order to get your project off the ground.  We operate discreetly and are happy to work through an NDA or contract.  Back-end code samples and professional references can be provided. Take the next step.