GTmetrix success for Submarine


Advanced website file management and optimisation have gained an unprecedented 94% rank from independent website assessor GTmetrix, for the latest Kings Health Club website and its sister site, Marina Health and Leisure.

With mobile phone website browsing escalating beyond 60% of users in many sectors, it is becoming increasingly critical that consideration and budget are allocated to advanced techniques applied during build to reduce the impact on network bandwidth, whilst still providing an immersive user experience. This is not as simple as heavy compression on images and video, since many phones and tablets are emerging with advanced graphics and HD screens which demand a high level of quality.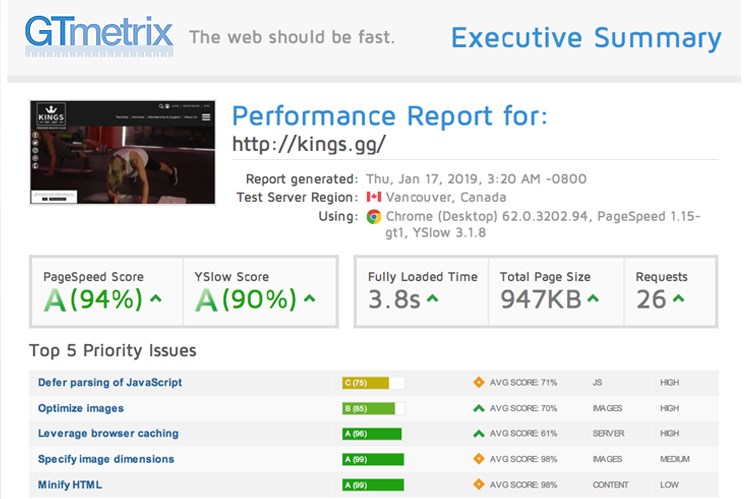 Submarine has over 20 years experience with digital media applied to web technologies, extending back to the days of 56K modems, the first iteration of streaming video through Apple's Quicktime technology and the introduction of vector based graphics which rely on mathematical calculation rather than the pixels in a bitmap image. By applying this experience to a state of the art content management system and a responsive design approach, we have been able to develop new efficiencies across the website build and techniques which provide a significant reduction in file size.
Without giving away our USP, we can provide three technical insights here:
Images wherever possible, are vectored and served to the website as a font held on the server.

The CMS holds bitmap image states, detects the device being used and serves smaller versions whenever possible (rather than a large generic image file scaled in page code).

The responsive design is built to flow,

 scaling artwork to fit the end device screen format and resolution. 

Kings and Marina performance success
For the Kings and Marina websites we went one stage further, with the home page deploying a full screen video as a wow factor and narrative introduction to the premium quality facilities. The video is not served by a generic provider such as Vimeo as many agencies adopt (the rough and ready method). In this case it is compressed with an advanced mpeg and streamed from the host server, the first frames landing on the mobile phone in less than one second.
In other areas of the website, further considerations are applied, for example, in page navigation has been optimised for mobile touch screen and items which slow down delivery with limited benefit (such as hero banner carousels) have been avoided.

The Kings' requirement for a fully mobile compatible website was driven by analytics which indicated this channel as a key route to communicate with their customers. This business requirement has been fulfilled effectively through Submarine's bespoke solution, and a further ongoing benefit will be the reduction of cost provided through the CMS which provides their staff with the facility to maintain the website.

Links
www.kings.gg
www.marina.gg
Please note: during significant social media  marketing campaigns the home page hero video may be replaced with a suitable campaign banner to welcome incomings during the event. 
Have you landed here from a web search?
Submarine are a technical and creative solutions provider based on the island of Guernsey near the French coast. Our field of operation is generally the Channel Islands although we do service clients with wider operations within Europe.