Website development
Submarine has over two decades of experience working with local authorities and significant international organizations including the development of bespoke back end and mobile applications.  Every client and project gains the benefit of this experience at the planning stage.  Submarine can provide initial advice on data security, hand-off to 3rd party systems and regulation such as the requirement for GDPR and a cookie notice process in Europe.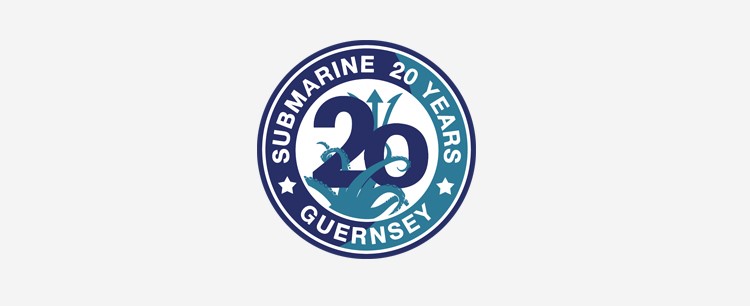 Website design and approach
Clarity and function are a critical component of website design including consideration for the navigation and user journey at the requirement and planning stage. If these are undefined, confused or haven't been considered against the target audience (what do they want / need to make a decision), you may lose potentials before they engage in your business and services.  This is particularly important if there is a selection or buying process involved.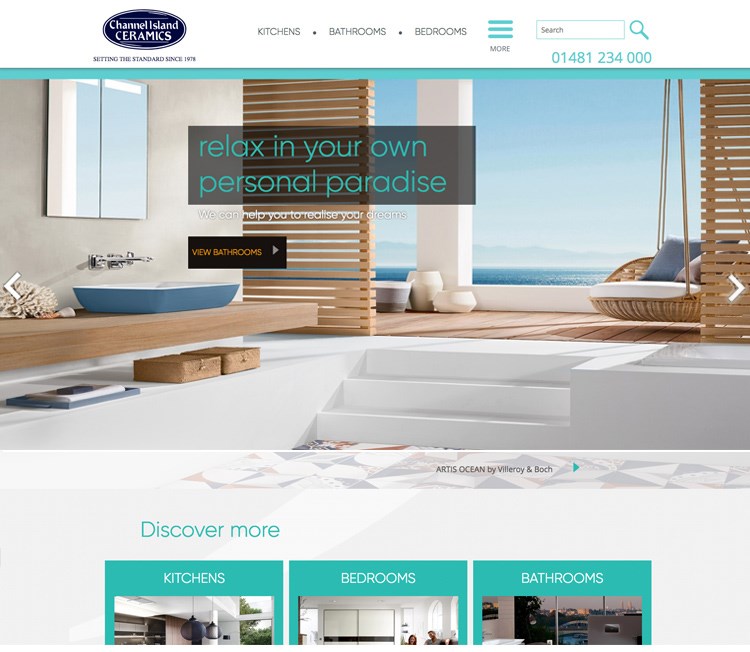 For Channel Island Ceramics, the audience are aspiring young professionals, established families developing their own home, and discerning customers looking for something unique and well designed with premium materials and fittings. There is also a trade audience for private builds, home developments, restaurants and hotels. The premium products and brands provided by CIC speak volumes and presenting these effectively was a primary requirement to engage the audience and draw them further into the website content .

The primary funnel is towards a showroom visit, a persuasive environment the company continually invest in with designed sets, product samples and the latest innovations in technology on show. Enquiries and contact submission is also encouraged.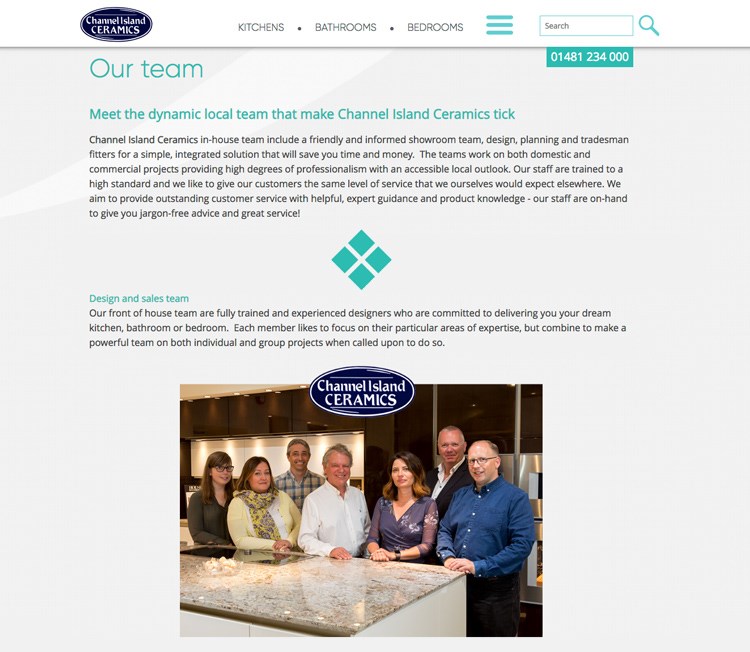 The three core groups of products - kitchens, bathrooms and bedrooms are clearly defined in the header for 'one click' access. The hero images are a key factor in selling the products and lifestyle. These have hyper links and editable meta per image and a clever approach to the CMS encourages search engines to regard each as a site page with individual titles and product description - boosting SEO.

The CIC product count is significant and so a system of filters were introduced to help visitors narrow down the options including product brand and period styles. These were added to the tag manager in support of search engines / site searches also.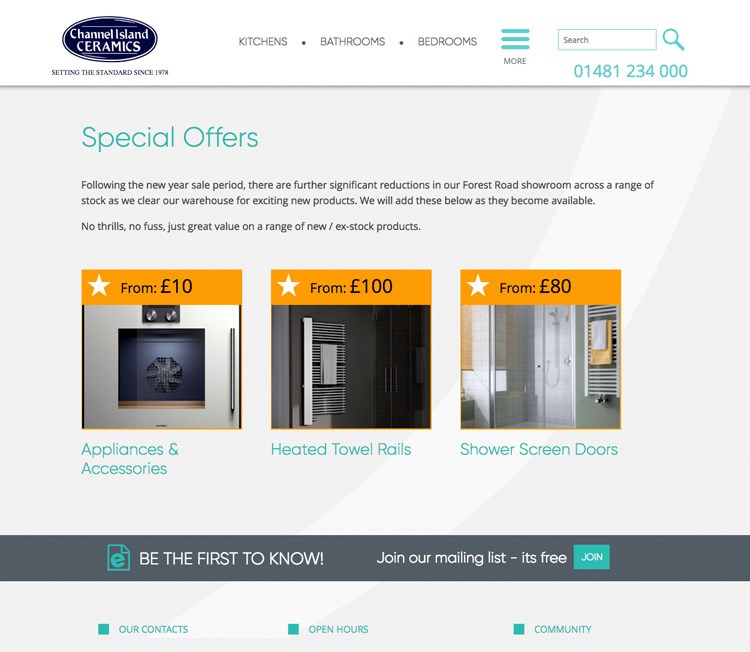 The visual design is simple and clean introducing a new colour palette although the original logo is kept for recognition. This allows the images to speak and detailing in the icons, panels and horizontals ensure it is unique to CIC. A foundation was included to extend the website in several areas including Special Offers (dynamic via the CMS) and Trade Support (including fitting instructions and installation videos).


Links
Channel Island Ceramics
Flat website design
Affordable websites that work for your business
CMS, and why you need it


It's good to share
Why not say hello?
Submarine can help you respond effectively to a new business challenge or support a concept for feasibility, in order to get your project off the ground.  We operate discreetly and are happy to work through an NDA or contract.  Back-end code samples and professional references can be provided. Take the next step.