Website development
Website development can be as simple as a brochureware site with a light content management system for a sole trader to a front end / back end build handling critical business and customer data working with an organisations executive, marketing and/or IT teams to ensure everyone is connected and signed off on the deployment.

Submarine have two decades of experience working with local authorities and significant international organisations including the development of bespoke back end and mobile applications.  Every client and project gains the benefit of this experience at the planning stage.  Submarine can provide initial advice on data security, hand-off to 3rd party systems and regulation such as the requirement for GDPR and a cookie notice process in Europe.

Website design and approach
Clarity and function are a critical component of website design including consideration for the navigation and user journey at the requirement /  planning stage. If this is confusing, over complicated or hasn't been considered against the target audience (what do they want / need to make a decision), you may lose potentials before they engage in your offer.  This is particularly important if there is a selection or buying process involved.

For Blooms, we provided a bright and inviting home page which supported the USP (locally grown, unique cut flowers) with a direct call to action from the first screen and an option to view large, high quality images. The customer is drawn in to the offer from the first view. The hero banner and messaging were editable through the CMS and could be used to promote calendar events such as Valentines Day (tied to social media campaigns).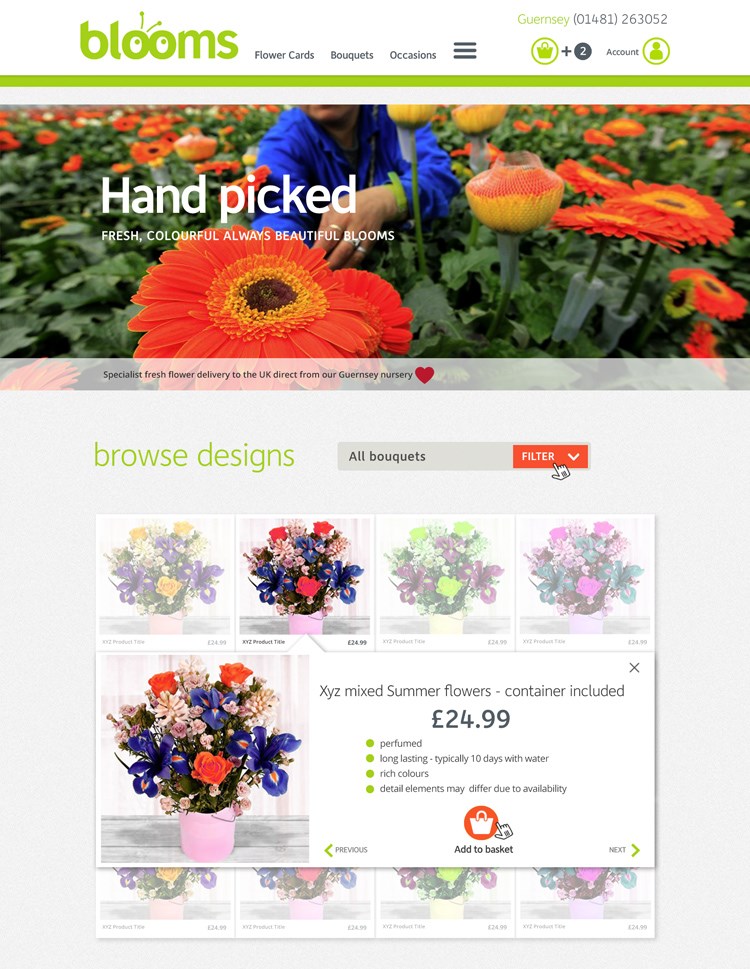 Once the selection and payment process were committed to however, the promotional element (and design) sat back in favour of a clean and functional display of the process details and input fields. This presentation was staged with confirms at appropriate points to maintain user confidence and script additions were deployed to shorten the requirement and confirm the validity of details, such as UK postcode lookup. In the case of Blooms, this latter function offered a solution to their regular occurrence of failed deliveries due to inaccurate address data being taken. 



Tablet & mobile delivery
Blooms was designed in a modular fashion to facilitate a light, responsive tablet and mobile delivery.  All graphics were vector based SVGs with a minimal file size for quick load, and the capability to expand for HD quality screens.  Product photographs were optimised via the CMS using Submarine's advanced optimisation routines including image state delivery based on the user end device (rather than the traditional one size fits all, resize on the device).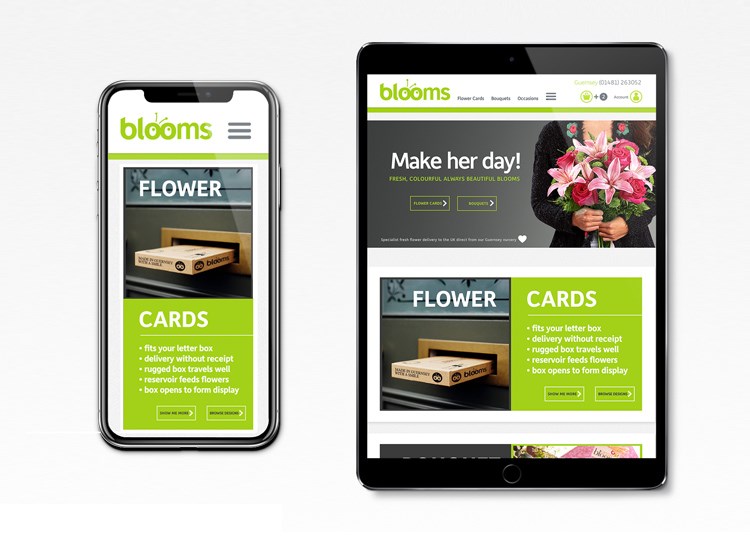 For this project, Submarine created the logo, colours, packaging development, managed product photography and provided marketing and social media input.


It's good to share
Why not say hello?
Submarine can help you respond effectively to a new business challenge or support a concept for feasibility, in order to get your project off the ground.  We operate discreetly and are happy to work through an NDA or contract.  Back-end code samples and professional references can be provided. Take the next step.