The Oddfellows Guernsey Friendly Society website
Submarine were asked by Oddfellows Guernsey to update their public website. This followed on from Submarine developing an application and database system, which powers their Friendly Society financial operation internally.  
The challenge was to create a website that was friendly and engaging on the home page with links to priority content  whilst also providing clear navigation and text content relating to financial matters where any ambiguity is unwelcome. Submarine achieved this through a combination of image and bright colour on the home page, reverting to clean text, open leading and a white backdrop on internal pages for maximum legibility with splashes of colour from the logo and horizontal banners providing a visual lift.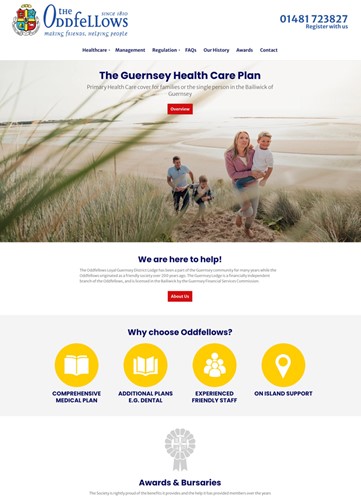 Other facilities included PDF development for regulatory documents and key disclosures such as terms and conditions. FAQs and a contact enquiry form allows easy out of office contact when the local office is closed.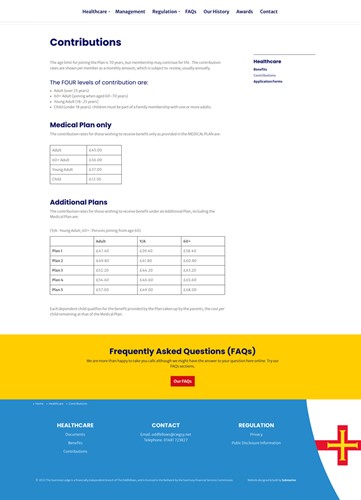 Have a look: https://oddfellowsguernsey.org/
A Modern Cost Effective Web Platform
The site is built in Umbraco, a modern secure platform which allows the Oddfellows staff to manage content internally, both for time critical releases and in order to keep ongoing running costs down.  Submarine is able to offer expertise and competitive pricing for medium to enterprise businesses including integration with office systems, and secure financial database applications.  

Environment

Submarine promotes support for all things green for a healthier environment. As with all new websites that Submarine create, we have planted 25 trees for Oddfellows through our CSR carbon offsetting scheme Ecologi.  For more information on Submarine's carbon offsetting scheme see https://ecologi.com/submarineltd

It's good to share
Why not say hello?
Submarine can help you respond effectively to a new business challenge or support a concept for feasibility, in order to get your project off the ground.  We operate discreetly and are happy to work through an NDA or contract.  Back-end code samples and professional references can be provided. Take the next step.