The Decider - new website for Cognitive Behaviour Therapy skills
Submarine Guernsey has worked closely with Carol Vivyan and Michelle Ayres to extend their website The Decider with an additional training portal function. This brings together four previous online training functions under one consolidated umbrella providing easier management, improved running costs and a more seamless user experience within one portal.
The Decider Skills use Cognitive Behaviour Therapy (CBT)  to teach children, young people and adults the skills to recognise their own thoughts, feelings and behaviours, enabling them to monitor and manage their own emotions and mental health more effectively. Complex psychological theory has been distilled into highly effective, evidence based skills for individuals and organisations, providing winning strategies for mental health.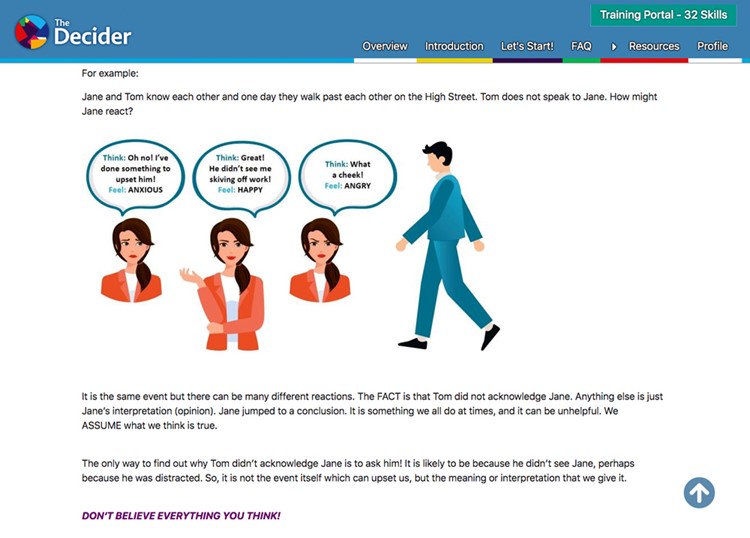 The Decider has already had huge success and is used by the NHS, Barnardos, the health services of both Guernsey & Jersey, prison & probation services and schools, to name a few.  In these times of uncertainly and added stress it's good to know that there is a helpful and beneficial service available for all age groups.
The training portal function is presented user a secure login with individual membership control and a user profile. It is intended to provide additional training courses, tailored support and resources including visual aids and video for professional health workers. Once enrolled, clients can be offered a single course, a series of courses or a bespoke programme.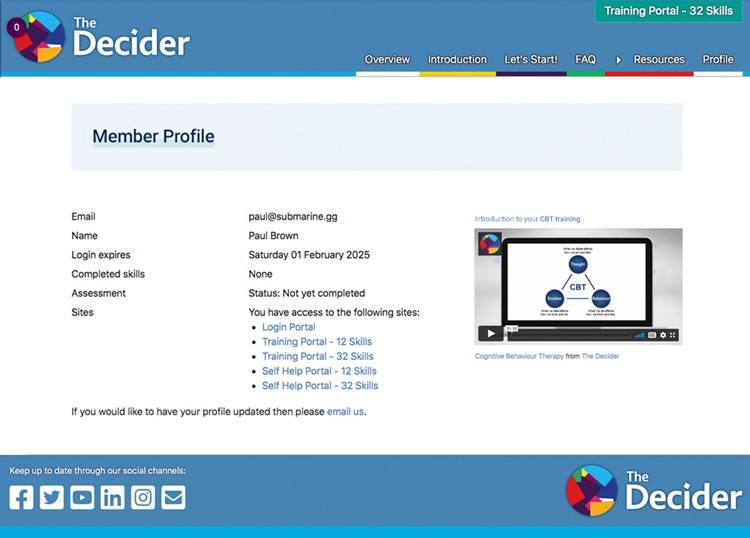 Flexibility provided by the new Submarine build will allow the Decider team to expand their training programmes more rapidly - it is a relatively simple to add an online CBT training module or a course for all members or specific clients which provides a further branded training opportunity for direct applications to these organisations. 

A modern content management system and secure hosting round the development out. Submarine will remain in support with additional technical and online design, artwork and marketing resource as required.


Environment
Submarine promotes support for all things green for a healthier environment. As with all new websites that Submarine create, we have planted 25 trees for The Decider through our CSR carbon offsetting scheme Ecologi.  For more information on Submarine's carbon offsetting scheme see https://ecologi.com/submarineltd



Recent websites
Further recent websites for island and community projects designed and fulfilled by Submarine.

Atanahan
G&N PT Studio
Guernsey Walking Football
Cardiac Action Group
Itchyfeet Recruitment
Independent Safety Services 
States of Guernsey
Financial Intelligence Service
Guernsey Water
Guernsey Harbours
Government House
Guernsey Police
States Works

It's good to share
Why not say hello?
Submarine can help you respond effectively to a new business challenge or support a concept for feasibility, in order to get your project off the ground.  We operate discreetly and are happy to work through an NDA or contract.  Back-end code samples and professional references can be provided. Take the next step.