Carbon reduction and the environment - is your business making a difference?
Did you know that it is Earth Week currently and that there is an annual Earthday celebration in support of the global environment? Now is the perfect time to consider your business contribution in reducing its current carbon footprint.  You can also work towards a pro-active net zero plan to improve the environment beyond this... rebuilding measures rather than simply reducing your impact.  



Carbon-neutral versus net-zero
Carbon-neutral and net-zero - what is the difference? The two terms are often used by organisations to represent their efforts in reducing their carbon footprint, the negative effect they have on the environment, however, they are not entirely the same.

Carbon Neutral: Carbon neutrality means balancing greenhouse gas (GHG) emissions by 'offsetting', or removing from the atmosphere, an equivalent amount of carbon for the amount produced. This can be achieved by buying 'carbon credits', in essence, permission to emit carbon dioxide or other GHG. However, a commitment to carbon neutrality does not require (or even necessarily imply) a commitment to reduce overall GHG emissions. A carbon-neutral business needs only to offset the GHG emissions it produces – even if those emissions are increasing. Source: Herbert Smith Freehills

Net Zero Carbon: In contrast, a commitment to net-zero carbon means reducing greenhouse gas emissions with the goal of balancing the emissions produced and emissions removed from the earth's atmosphere. This could include the business;
reducing its GHG emissions across all these activities as much as possible
supporting/funding the removal of carbon dioxide produced by any emissions the business currently produces.
Source: Herbert Smith Freehills



According to Ecologi, an organisation which plants trees and funds environmental crisis solutions, these are further key points to take on board:
Carbon-neutrality allows for emissions to be created in the first place with no specific level of carbon reduction required; Net-zero does not.

Carbon-neutrality can refer to a product, service or organisation; Net-zero must encompass the whole organisation.

Carbon-neutrality is a short-term goal, that can be achieved now; Net-zero is a long-term goal, which involves working towards targets.

Carbon-neutrality must cover direct emissions; Net-zero must cover both direct and indirect emissions (including supply chain).


Net zero, as we can see, is a more pro-active forward position that you can target with your business sustainability planning. It requires setting targets and achieving a neutral balance between the greenhouse gases you put into the atmosphere with those taken out, rather than simply reducing your existing 'carbon footprint'.  Clearly though, any effort you make today towards a carbon reduction will be of benefit in future, and this is the positive start we have committed to at Submarine.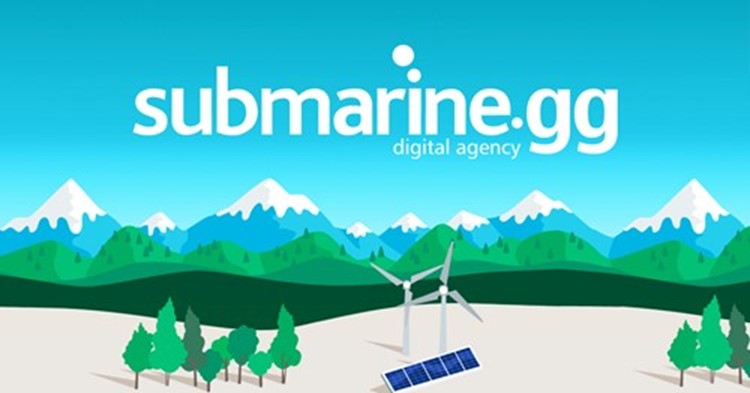 Submarine and the environment
Submarine promotes support for all things green for a healthier environment and are active in attempting to reduce our own carbon footprint right now. Our staff either walk or cycle to and from work, we recycle in the office and we have reduced the purchase of plastic food packaging and waste where we can. 

We are also active in improving the atmosphere. We have installed living plants in the office and we are planting trees across the world - for every new website that Submarine creates, we plant 25 trees through our CSR carbon offsetting scheme Ecologi.  To view the progress on Submarine's carbon offsetting scheme please visit this https://ecologi.com/submarineltd


Can your website be part of a carbon reduction plan?
Yes. A poorly constructed and inefficient website will consume a good deal of electricity. By making your website more efficient you not only improve the user experience and search engine response, you can also reduce your energy consumption and your carbon footprint. Submarine can help you with this.

How are Submarine themselves doing?
Using the website calculator at websitecarbon.com, you can see that we have made a positive step with an efficient build and are ahead of the global curve. We further offset this with our tree planting - over a 1000 trees planted across the world through Ecologi to date versus the website CO2 impact of 4/5 trees a year.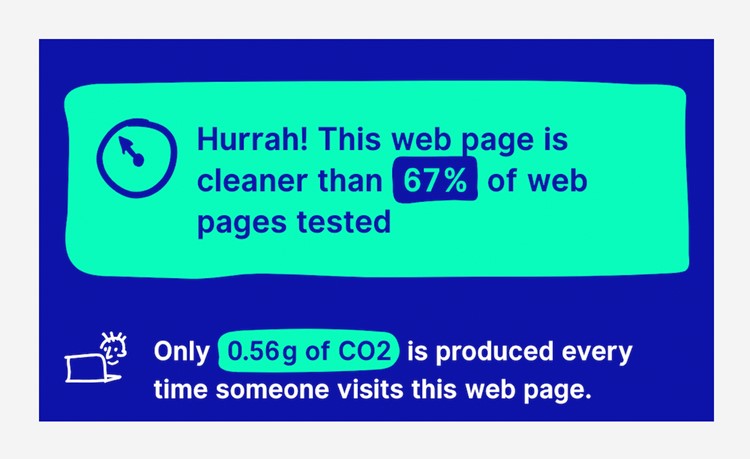 We have also applied this efficiency drive and carbon reduction contribution to client websites including Kings Premier Health and Collenette Jones - both of which have have GT Metrics (efficiency) scores of plus 90% on release. 


Related Links
Earth Day Celebration website
World Wildlife Fund - personal carbon footprint
Ecologi - tree planting and environmental crisis support funding website
Submarine progress with our tree planting
Websitecarbon - insight on website environmental impact
Gold Standard - sustainable development

Recent websites
Further recent websites for island and community projects designed and fulfilled by Submarine.
Independent Safety Services
Atanahan
G&N PT Studio
Guernsey Walking Football
Cardiac Action Group
Itchyfeet Recruitment


States of Guernsey - recent websites
Guernsey Legal Resources
Liberation Day 2021
Financial Intelligence Service
Guernsey Water
Guernsey Harbours
Government House
States Works
Guernseytickets


Have you landed here from a web search?
Submarine are a technical and creative solutions provider based on the island of Guernsey near the French coast. Our field of operation is generally the Channel Islands although we do service clients with wider operations within Europe.