Stay in contact with your customers
Staying in contact in these strange times is important.  

We want to keep in contact with our nearest and dearest but it is also important to keep your customers up to date.  We have put a check list together to help you get your message out:


Keep your website updated - a short 'operational status' banner is a good idea. This should appear whatever page a viewer lands on. Submarine can help with this.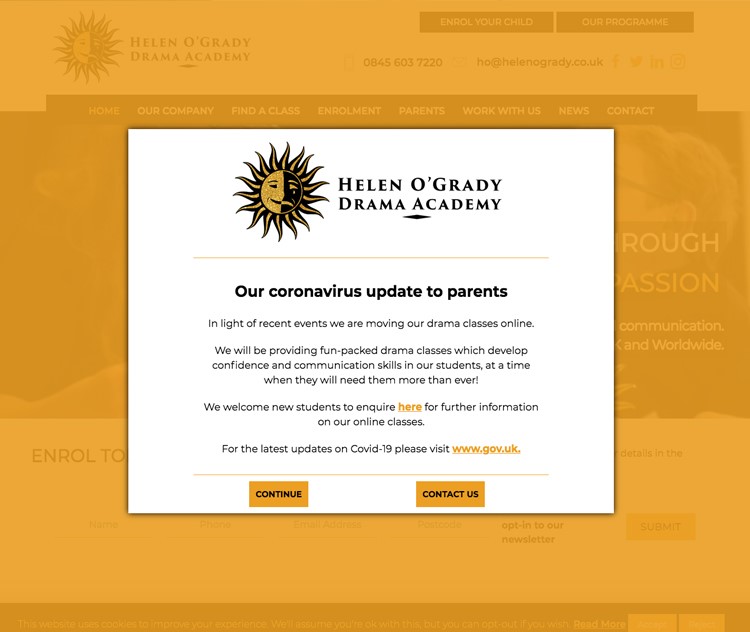 Keep in touch via any social media platforms that you may have. Ensure the message is unified and consistent.
Don't forget wider platforms such as LinkedIn and a Google My Business page.
If you have a MailChimp account or similar, an Electronic Direct Mail (EDM) can reassure customers.  Include primary contact points and useful information links.
Make sure that any change to your usual contact points such as telephone numbers and e-mail are made clear.
Consider video conferencing with your customers.  It's nice to see a face and this can be simpler than you may think through a facility such as Microsoft Teams.
Consider a Chat Bot to help with customer queries.  Submarine may be able to help you with this, offering a Facebook link and automatic smart replies to common questions.


We want everybody to stay safe in these unpredictable times and want to re-assure you that Submarine will remain operational in support.  We hope you can stay connected too.
If you need any help or advice please feel free to contact us.


Stay Safe.  #GuernseyTogether


Useful links:
Submarine support article - available when you need us
COVID-19 - Submarine provision and working from home
It's good to share
Why not say hello?
Submarine can help you respond effectively to a new business challenge or support a concept for feasibility, in order to get your project off the ground.  We operate discreetly and are happy to work through an NDA or contract.  Back-end code samples and professional references can be provided. Take the next step.