Independent Safety Services new website
Independent Safety Services (ISS), provides plant operator and workplace training from a base on Guernsey. Submarine has designed and produced a new website to improve communication performance and promote the business on mobile platforms.

Steve Le Tissier, the owner of ISS, operates across the Channel Islands providing a high quality service which is hard to beat locally. He continually invests in the business applying developing industry standards and through his own certification. He brings a wealth of experience and expertise to his clients although he tends to be one of the island's best kept secrets operating essentially B2B.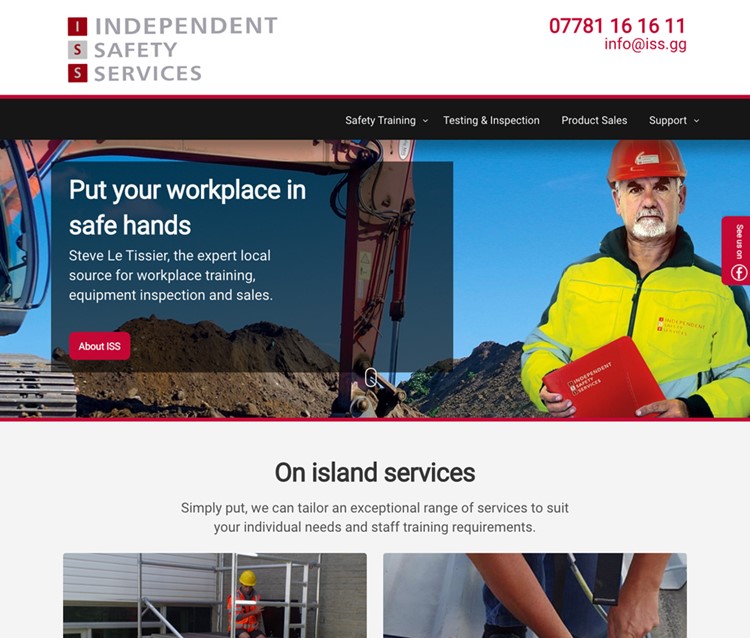 Submarine took this on board and the first touch point was to provide a new responsive website that would perform well on mobile devices and provide support for incoming social media posts. The brand was gently updated to a more attention grabbing red / dark grey over the former green and yellow. 

Services and supporting content were re-organised towards the needs of incoming users and sections added to promote / validate the work including a gallery of projects completed and page outline standards and certificates that are complied with. Since Steve is effectively the business and clients engage with his skill and personality, we also promoted his role including the entry hero banner.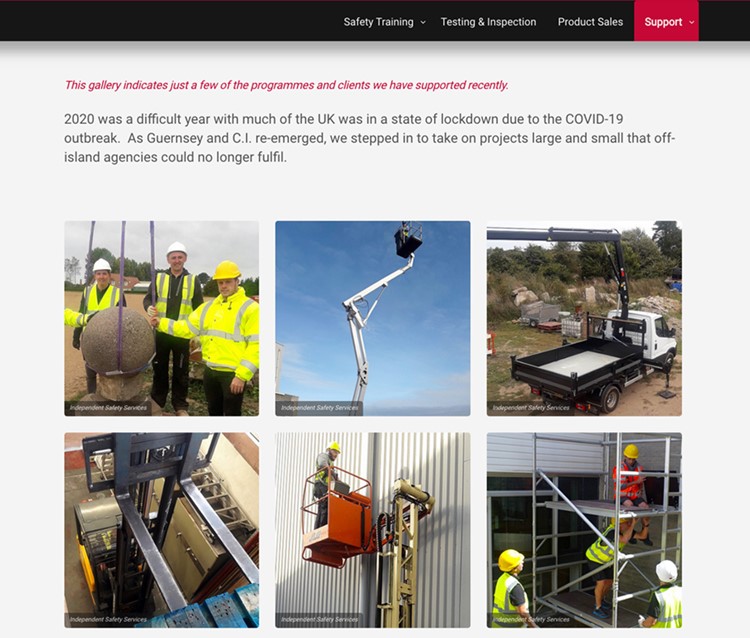 A modern content management system rounds this out providing Steve with the opportunity to run the website on-going without additional cost although Submarine will provide domain and hosting services with additional technical and marketing support as required.


Environment
Submarine promotes support for recycling and the local environment. In addition, as with all new websites that Submarine create, we have planted 25 trees for ISS through our CSR carbon offsetting scheme Ecologi.  For more information on Submarine's carbon offsetting scheme see https://ecologi.com/submarineltd

Links
Independent Safety Services
Submarine and Ecologi: https://ecologi.com/submarineltd

Recent websites
Further recent websites for island and community projects designed and fulfilled by Submarine.

Atanahan
G&N PT Studio
Guernsey Walking Football
Cardiac Action Group
Itchyfeet Recruitment
Channel Island Ceramics

States of Guernsey
Financial Intelligence Service
Guernsey Water
Guernsey Harbours
Government House
Guernsey Police
States Works



It's good to share
Why not say hello?
Submarine can help you respond effectively to a new business challenge or support a concept for feasibility, in order to get your project off the ground.  We operate discreetly and are happy to work through an NDA or contract.  Back-end code samples and professional references can be provided. Take the next step.