DCA - Guernsey & Jersey Civil Aviation
Working closely with the Director of Civil Aviation, Dominic Lazarus, Submarine has developed the joint Guernsey & Jersey Civil Aviation website on the States of Guernsey content management platform ICM.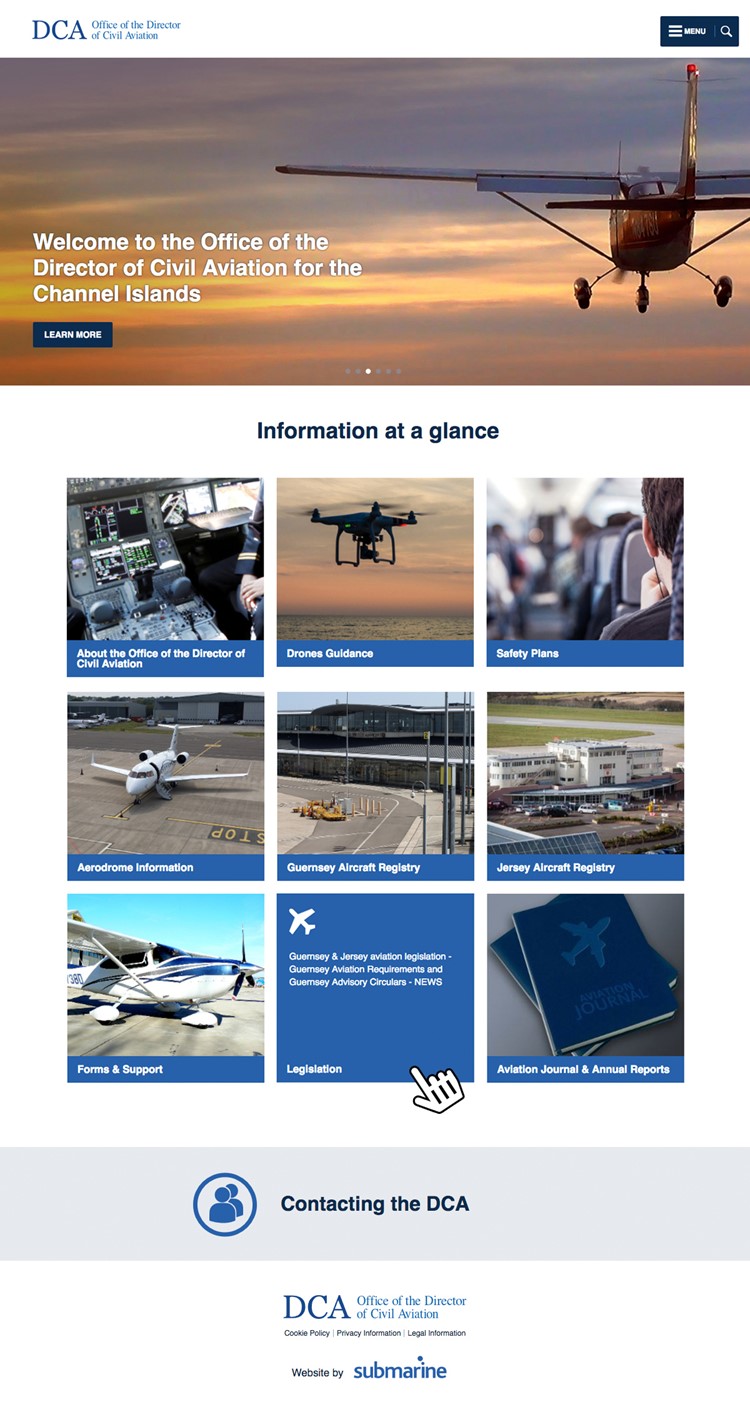 Priorities of the website are to be professional and engaging whilst providing clear and direct access to local Channel Island aviation regulation, legislation and wider support information for pilots and visitors. On the launch of the website Mr Lazarus stated: 
"I am pleased to announce the release of the first edition of our new website designed to enable all users to easily source information in the Bailiwicks of both Guernsey and Jersey. The Channel Islands are fundamentally dependent upon air transport which is tied closely to our high-profile industries." 

"Not withstanding, as a regulatory body, we intend to keep focused and hold to our primary responsibilities of good oversight and governance of the air transport sector to ensure the highest levels of safety and security."

You can read the full release here: A personal message from the Director
In addition to providing accessible content for users and a streamlined content management path for the DCA team, the website is also designed to work efficiently on mobile, recognising that many users may access the website whilst on the move, potentially in the air. With this in mind the main content areas are provided through a one click panel matrix on the home page with a single mega menu complementing this navigation within the website.
Submarine work closely with States of Guernsey IT and the CMS support team on all ICM deployments. 


Links
DCA - The Office of the Director of Civil Aviation

Recent States of Guernsey / ICM deployments by Submarine
Guernsey Harbours
Guernsey Water
Government House
Guernsey States Works
Beau Sejour Leisure Centre 
Guernsey Tickets
Guernsey Police
The Institute 
It's good to share
Why not say hello?
Submarine can help you respond effectively to a new business challenge or support a concept for feasibility, in order to get your project off the ground.  We operate discreetly and are happy to work through an NDA or contract.  Back-end code samples and professional references can be provided. Take the next step.